WHO IS GEORGE?
George is The Nare's virtual butler and the persona for a Guest Request Service launched in December.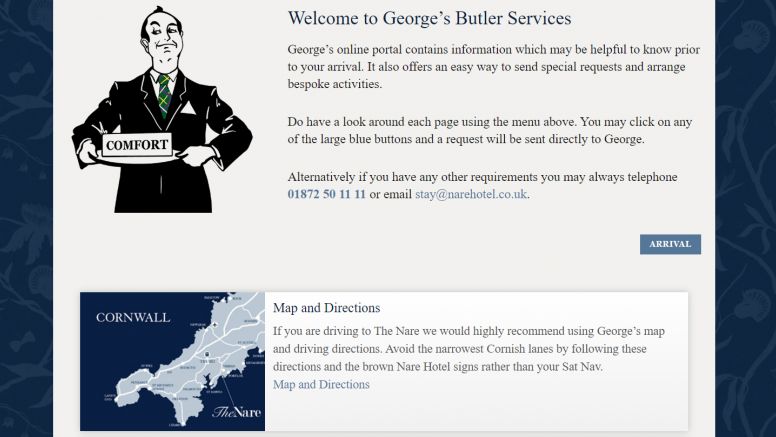 Oh, and the name George was chosen because it seemed to be wholly appropriate for a country house butler - "George, be a darling and fetch the..."
WHY GEORGE?
The Nare is renowned for its traditional service, where each guest's stay is personalised to their individual requirements. However at the time of booking there is rarely sufficient time to inform guests of all the country house arrangements on offer.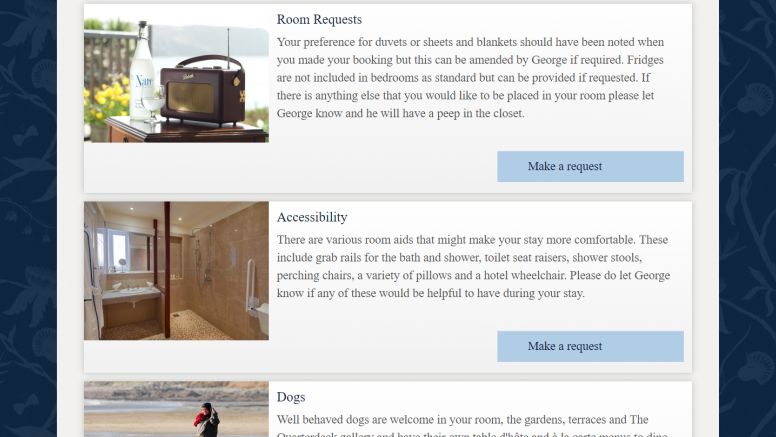 George's portal allows guests to browse information at their leisure to consider how they might like to spend their time at The Nare and anything that could make their stay more comfortable.
From time to time guests have also shared that they would have liked to enjoy a particular Nare service or activity (e.g. a lesson with the artist-in-residence) but had been unaware of it until after they had arrived. George is able to highlight the activities that may require prior arrangement.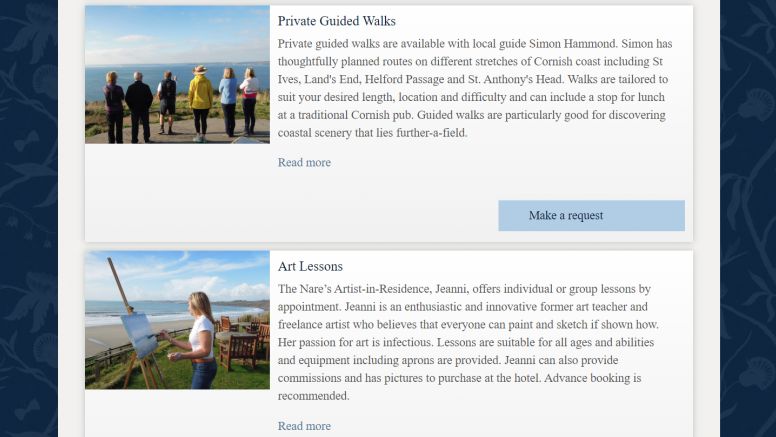 HIS CREATOR
Once George was conceived thoughts turned to who should bring him to life. The brief was to create a Nare-like character befitting of a country house butler. Annie Tempest, who is highly regarded for her characterisation of classic country gentry in Country Life magazine, was seen as the perfect choice. Annie is a friend of The Nare and many of her drawings adorn the hotel interiors.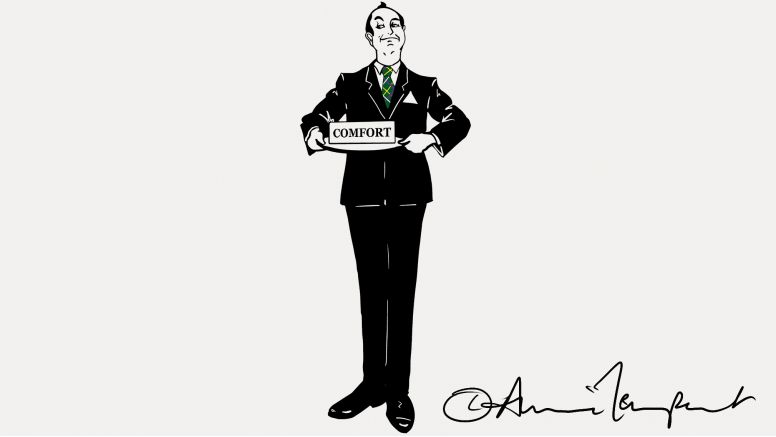 Like all good butlers, it has been suggested that George may be a bit of a one-off?
This type of guest request software is now common place in many hotels but have any of them chosen to bring theirs to life and make it something more interesting for their guests? Answers on a post card please...
HIS ROLE
So what does George actually do? Well...in addition to being a bit of fun, George:
1. Provides helpful pre-arrival information
2. Presents bespoke activities, day visits, and other country house arrangements that may be of interest
3. Offers an easy way to send requests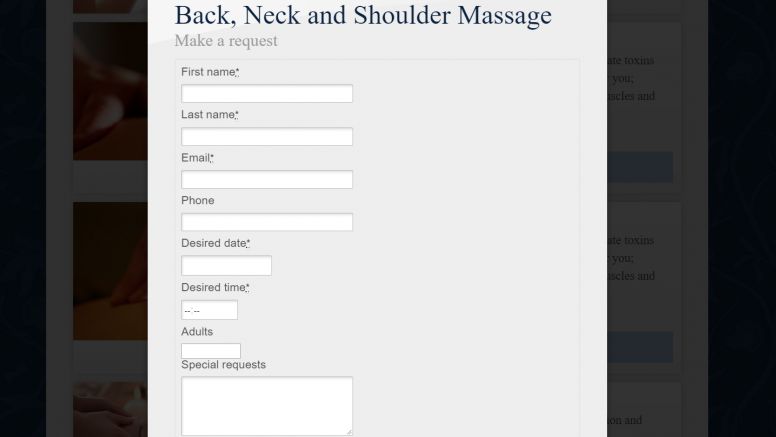 P.S. This is an additional service for guests which requires an email address. Guests may always speak with the Reservations Team on 01872 50 11 11 or email stay@narehotel.co.uk with any requests they may have.
HOW IT WORKS...
1. The first George email is sent upon booking confirmation. This provides a link to George's online portal where all of his services are accessed.
2. Guests can browse the information provided in the portal and if they wish, click on any of the 'Make a Request' buttons. George or one of his team will then respond in due course.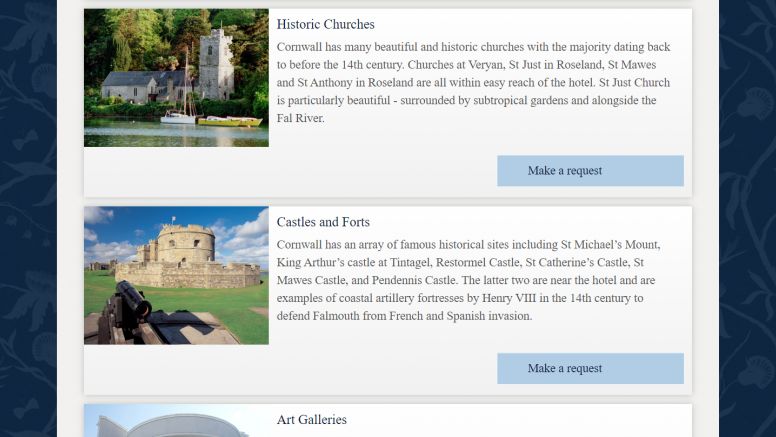 3. A further email is sent 28 days before arrival. This is a reminder of George's services and also highlights a few seasonal activities that guests may wish to consider whilst at the hotel.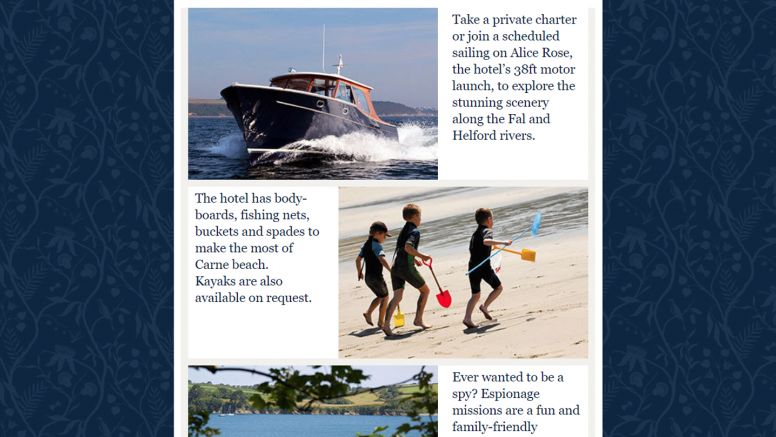 4. One week before arrival George sends ideas to help with final preparations and packing, including a link to download useful driving directions.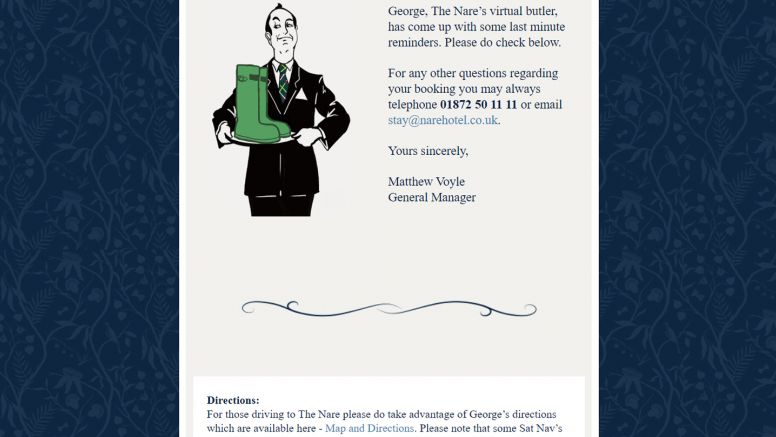 We do hope George will become a valued member of The Nare's family of staff and considered a helpful chap to have around...