Sunday lunch at The Nare is available throughout the year. It is served from noon until 2.30pm in the formal Dining Room every Sunday. There is also a roast option available in the more relaxed Quarterdeck Restaurant each week. The Nare has always supported local farms and uses only the finest cuts of Cornish-reared beef and lamb. Booking is recommended especially between May and September.
IN THE DINING ROOM
The Nare's Traditional Sunday Luncheon in the Dining Room is a gracious and traditional affair. One should arrive in time for an aperitif and canapés in the cocktail lounge before being shown to an elegant sea-view table.
The four course menu begins with a choice of starters including locally smoked salmon, soup of the day and a selection of hors d'oeuvres served from the trolley. The main course is a full roast with all of the trimmings one would expect with roasted and buttered new potatoes.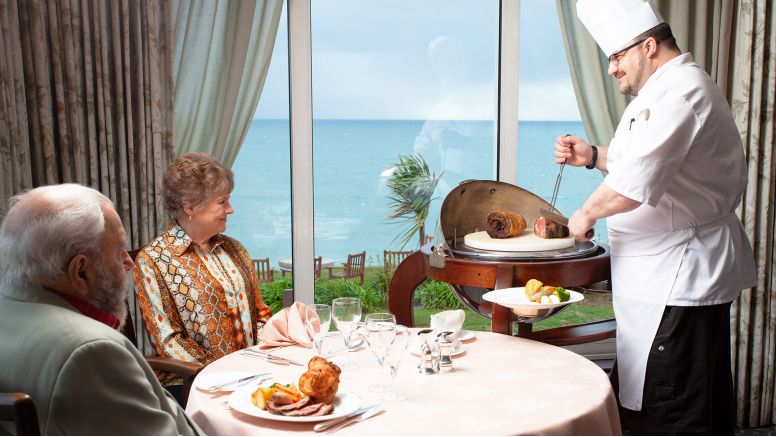 Beef is carved at the table by the chef and there is a fish and vegetarian main course option also available. To follow there is a choice of homemade desserts, ice creams, sorbets and a flambé of the day. There is also a delightful selection of West Country cheeses and vintage ports to savour. Coffee and petit fours complete a delectable lunch.
Slightly formal, but certainly not stuffy, The Nare's Traditional Sunday Luncheon is an occasion in itself.
£33.00 per person
ON THE QUARTERDECK
Sunday lunch on The Quarterdeck is less formal. The usual terrace lunch menu is served alongside a table d'hôte 3-course menu which features a traditional Sunday roast. Guests may choose from either menu and dine on the sheltered terrace if preferred.
1 course - £19.00, 2 courses - £23.50, 3 courses - £28.00 (all per person).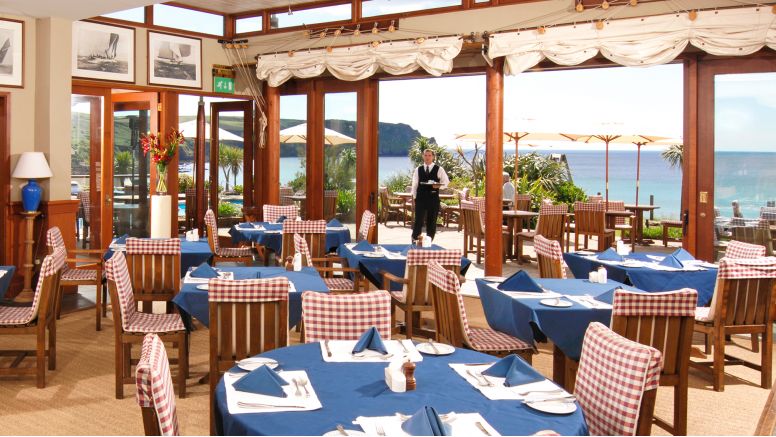 Book Sunday Lunch at The Nare