Sunday lunch at The Nare is available throughout the year served from noon until 2.30pm in the Dining Room. The Nare has always supported local farms and uses only the finest cuts of Cornish-reared beef and lamb.
IN THE DINING ROOM
The Nare's Traditional Sunday Luncheon in the Dining Room is a gracious and traditional affair. One should arrive in time for an aperitif and canapés in the cocktail lounge before being shown to an elegant sea-view table.
The four course menu begins with a choice of starters including locally smoked salmon, soup of the day and a selection of hors d'oeuvres served from the trolley. The main course is a full roast with all of the trimmings one would expect with roasted and buttered new potatoes.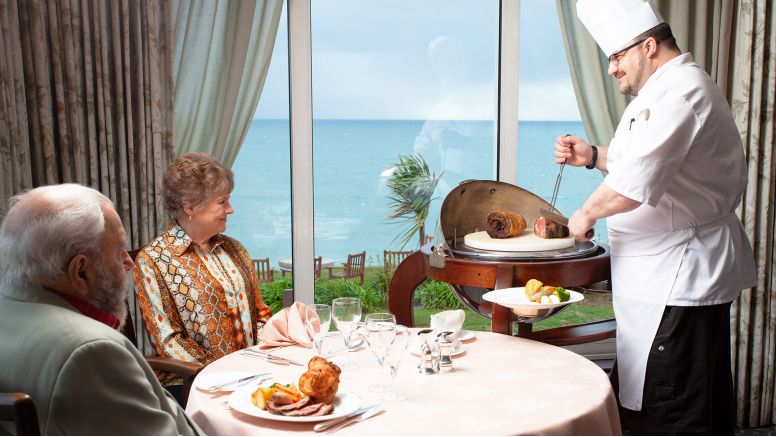 Beef is carved at the table by the chef and there is a fish and vegetarian main course option also available. To follow there is a choice of homemade desserts, ice creams, sorbets and a flambé of the day. There is also a delightful selection of West Country cheeses and vintage ports to savour. Coffee and petit fours complete a delectable lunch.
Slightly formal, but certainly not stuffy, The Nare's Traditional Sunday Luncheon is an occasion in itself.
£47.00 per person