The Nare thrives on its well-known reputation for having an extremely loyal following of many, many guests that return regularly to this special place. The Nare is proud to have one of the highest returning-guest occupancy rates of any country house hotel in any rural area of Great Britain.
ACCOLADES
You may well notice an absence of any overt proclamation of hotel awards. The Nare does of course receive numerous awards. We are of course very appreciative for these gratuitous awards which are a naturally forthcoming testament to the excellent service given by our staff. Some are mentioned below. However, unlike many other hotels whose reputation relies heavily on a plethora of accolades of dubious merit, at The Nare we choose not to go trophy hunting or proposing ourselves for awards.
Instead we prefer to concentrate on looking after our guests and leave it to them to pay us the biggest compliment of all by returning year after year - we find that somewhat more rewarding! It is hoped that if you do come and stay with us you will find that it matters not a jot that plaques are not plastered on every wall, but rather that you have a really comfortable stay and you would wish to come back again and again – indeed, just as many of our loyal guests do.
PARTNERSHIPS
AA Hotel Rating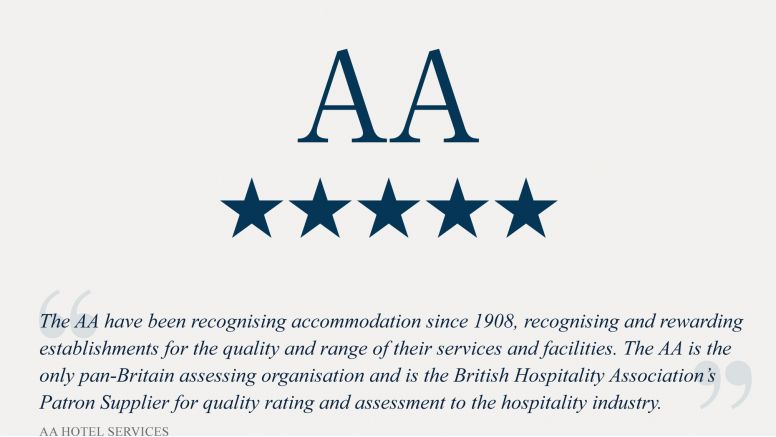 The AA continue to act as an independent assessor of hotels throughout the UK. They regularly send inspectors to The Nare to ensure that the hotel continues to exceed the standards demanded of a 5 Star hotel. The Nare has been the highest rated Cornish hotel for the last 30 years and held 4 AA Red stars for a decade – an accolade bestowed by The AA to represent the most outstanding hotels in the British Isles. Click here for an explanation of The AA's hotel star rating system.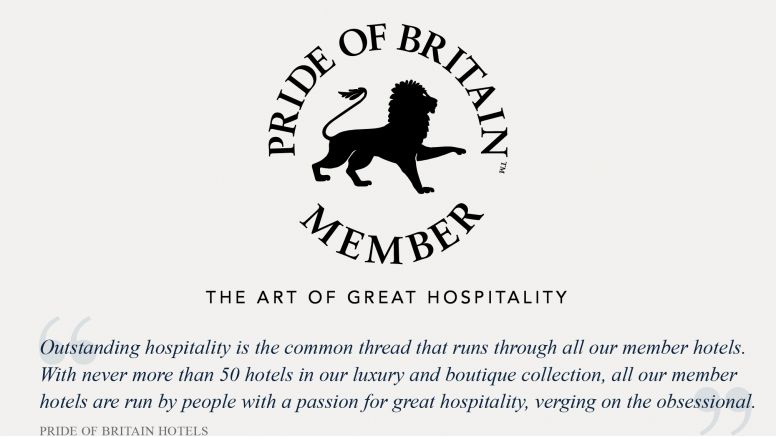 The Nare is proud also to be a member of Pride of Britain Hotels (POB), a highly esteemed hotel consortium and an exclusive selection of the finest privately owned hotels in Britain. The Nare was pleased to be the recipient of the POB Hotel of the Year award in 2008. The consortium was formed in 1982 to enable like-minded hoteliers to pool their resources to reach a wider audience of discerning customers. The consortium seeks to represent a mixture of traditional and contemporary styles of privately owned hotel, with an emphasis on great hospitality.
Membership is limited to no more than 50 privately-owned properties, and it is the members themselves who decide whether a new applicant is suitable to belong to the consortium, following an anonymous inspection and a vote. Hotels are then inspected regularly by mystery hotel inspectors, and are asked to leave if they are not up to scratch.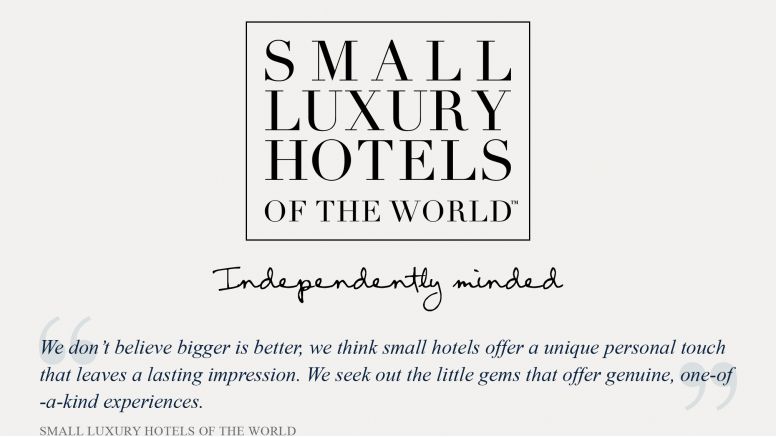 For worldwide recognition The Nare is a member Small Luxury Hotels of the World (SLH) and the only SLH property in the West Country. SLH carefully selected each of their hotels to celebrate their individual quirks and characters, and they ensure they are all of a consistently high standard. (Incidentally they receive over 1,000 hotel applications each year, but accept just 5%). Every one of their 520 small, independent hotels has one thing in common: excellence.
The SLH consortium - the antidote to the large corporate hotels which are more suited to Leading Hotels of the word consortium- believes that small is beautiful and encourages a spirit of being independently minded – a definite similar trait that runs through the genes of The Nare's family ownership!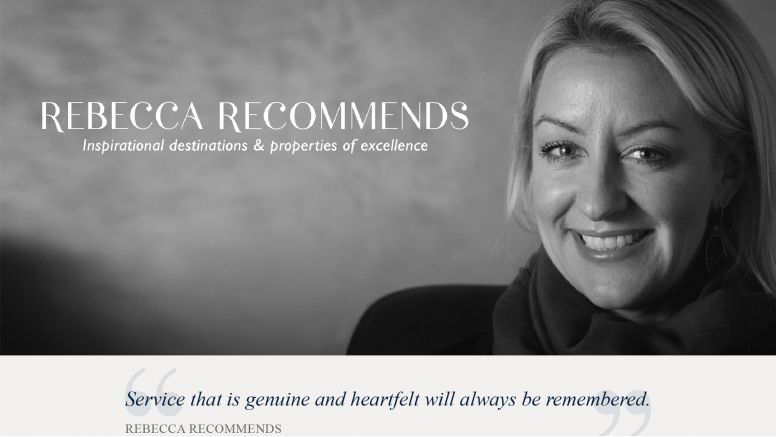 Rebecca Recommends (RR) is one of the leading luxury travel representation companies in the United States. Its founder, Rebecca Slater the daughter of a British independent hotelier, represents an eclectic mix of luxury hotels, residences and services from the United Kingdom and around the world for the discerning traveller who values authentic experiences. Rebecca has always stated that she only wants to work with like-minded people who believe that service is at the "heart of our craft". In a world where truly good service seems harder to find, a real desire to serve and exceed people's expectations is what she recognises as being so important.
Believing that "smaller is beautiful", Rebecca loves to work with owners or managers who are personally invested in their businesses, care for people and plan for longevity in their company. "It is a thrill to share local treasures – like a little known pub, a quirky gallery, an adventurous outdoor activity or a spontaneous visit to a private home." Rebecca and her dedicated team, based on both east and west coasts of America, are a vital support to The Nare in introducing discerning guests from further afield.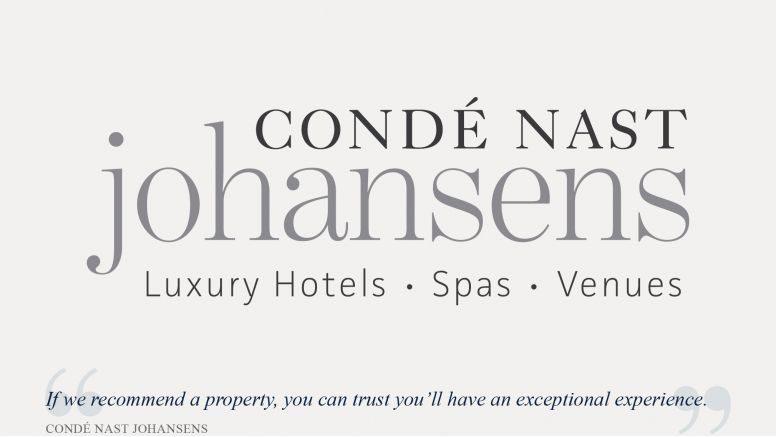 The Nare has been included in every Condé Nast Johansens (CNJ) hotel guide since its foundation by Derek Johansen over 35 years ago. CNJ hand-select the best properties from around the world for inclusion in their collection. Whether you're searching for a luxury hotel, spa, country house, boutique retreat, celebratory venue or somewhere by the beach, they provide inspiration and assistance in finding the perfect place for every occasion.
With over thirty-five years' experience inspecting and recommending properties throughout the world, their team of dedicated and highly trained local experts inspects each property year-on-year. The Nare have collected several accolades over the years from CNJ including Best Coastal Hotel and Best Country House Hotel.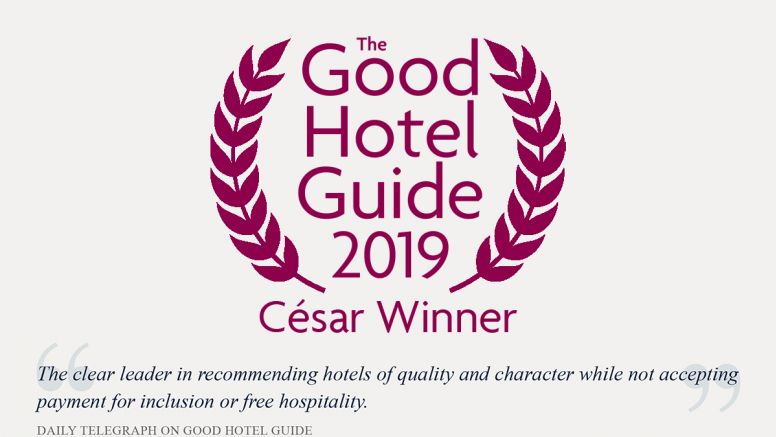 The Nare has been included in the Good Hotel Guide (GHG) for many years and the readers' comments are always a good reflection of what to expect at any hotel. They happen to be complimentary about The Nare. GHG is the leading independent guide of hotels in Great Britain and Ireland. It is written for the reader seeking impartial advice on finding a good place to stay. Hotels cannot buy their entry as they do in most rival guides. No money changes hands, and the editors and inspectors do not accept free hospitality on their anonymous visits to hotels. An entry in the printed Guide is free, but we do charge for a website entry to cover research and administration costs. The Nare have collected several accolades over the years from GHG including a prestigious César Award and Seaside Hotel of the Year.