Cornwall's Spring Story is the proof that spring really does arrive in Cornwall first. Each year six nominated champion magnolia campbellii are monitored in six different Great Gardens in Cornwall to record the date they come into full bloom. The moment all six champion magnolia trees have flowered with at least 50 blooms on each, spring has arrived in England.
TOBY SHARES WHY HE FOUNDED CORNWALL'S SPRING STORY:
In 2019 spring was declared on Thursday 14th February, over a month before astronomical spring (20th March) and much earlier than the rest of Britain. 
When will it be in 2020? View the live bloomometer by clicking the button below:
MAGNOLIA ADJUDICATION
The head gardener at each of the six Great Gardens sends in a daily report of their champion magnolia campbellii tree, as the buds begin to shed their outer winter jackets to come into full bloom. Each gardener sends photographs and the all important bloom count so that progress across all six gardens can be monitored. Spring is declared when the six nominated magnolia campbellii have 50 blooms apiece.
You can follow the action on The Nare's Live Bloomometer or on social by following @TheNareHotel and @Gr8Gardens. There is comment and intrigue, regular postings and photographs as the season progresses and the trees come into full flower.
THE DATE SPRING WAS DECLARED IN PREVIOUS YEARS
- 14th February 2019
- 26th February 2018
- 28th February 2017
- 10th February 2016
- 3rd March 2015
- 3rd March 2014
- 19th February 2013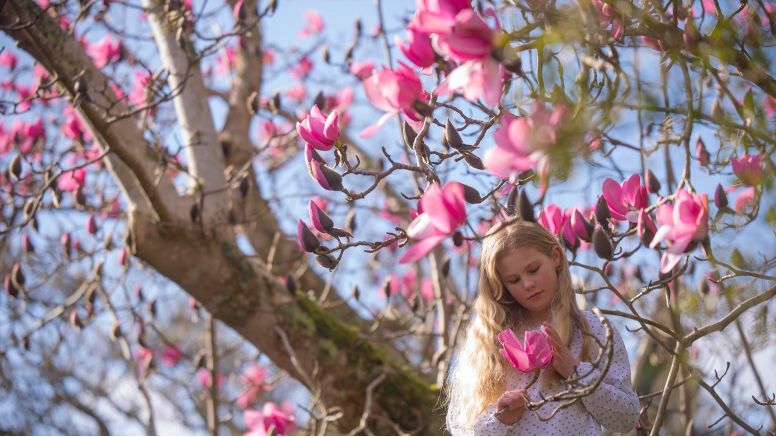 THE REASON FOR CORNWALL'S SPRING STORY
Over the years it has become increasingly apparent that many people do not fully appreciate quite how early spring arrives in Cornwall and how much earlier than the rest of England. Whilst there are lovely gardens to explore in Cornwall throughout the year, really the very best time to visit the Cornish Spring Gardens is when Cornish magnolias are in full bloom during the early part of the season.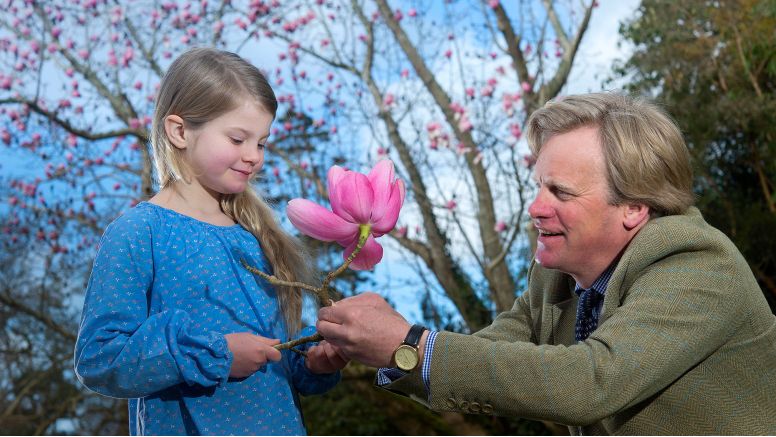 The blooming of magnolia flowers often occurs around the beginning of March - a fact rarely even appreciated by gardeners throughout the rest of England. But over the last few years, spring has been declared even earlier, thanks to some mild winters. Cornwall's Spring Story was founded by Toby Ashworth of The Nare Hotel, and in collaboration with The Great Gardens of Cornwall.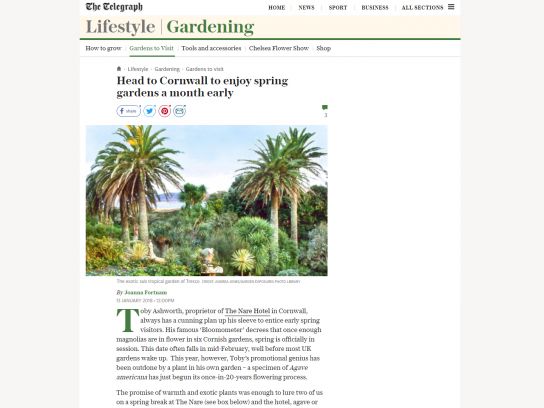 The Telegraph article on Cornish Gardens
Read the recent article by Joanna Fortnam of The Telegraph, which reviews several of the Great Gardens of Cornwall, and highlights the early arrival of spring in Cornwall.
Read More
GREAT GARDENS OF CORNWALL COMPETITION
Visit the Great Gardens of Cornwall website to register for your chance to win a 4 night break at The Nare, including tickets for all of the participating gardens. The competition is open until 31st December 2020 and the winning couple will be invited to join us at The Nare during the Spring of 2021 with the chance to visit the Great Gardens of Cornwall when the magnolias are flowering.