The four Whittington Suites offer the ultimate in seaside comfort and relaxation. They are a place where one can enjoy the unique charm of The Nare with the luxury of additional space and seclusion.
VIRTUAL TOUR OF THE SUITES:
WHAT MAKES THESE SUITES SPECIAL?
Each suite is individually decorated in The Nare's elegant country house style and together they form the western part of the main house. All of the suites boast spectacular panoramic sea-views over Carne Beach and Gerrans Bay, with the iconic Nare Head to the east and views along the meandering coastline towards The Lizard to the west.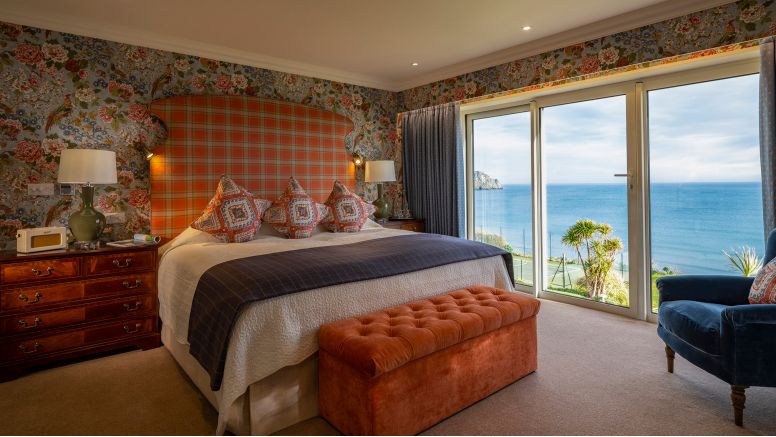 The suites feature a large double bedroom, dressing room / second bedroom (snore-a-torium), two bathrooms, sitting room, kitchenette, and large private balcony or terrace. They range in size from 88m2 - 132m2 (950ft2 - 1,420ft2) making them between two and three times the size of Nare Junior Suites. They are believed to be the largest sea-view hotel suites in Britain.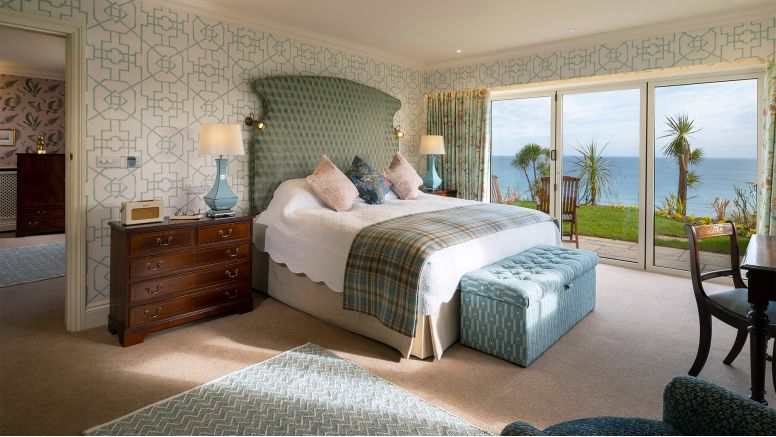 The Whittington Suites are also very flexible. They can be arranged to meet different guests' needs and taken as one, two, or three-bedroom combinations. This makes them ideal for gatherings of several generations, families with grown-up children, and for couples who wish to holiday together. Two suites may be combined to give the freedom of a whole floor, or all four suites to form a completely private part of the hotel.
TYPICAL SUITE LAYOUT (GREATER SUITE):
Having celebrated 30 years under the current family owners, the launch of these suites represent another milestone for The Nare. They have been part of Toby Ashworth's vision for the hotel since he took over the reins from his grandmother on millennium eve and help to ensure The Nare is well-equipped for the next 25 years.
In honour of his family heritage Toby chose to name these suites after Olive (1887 - 1971) and Bettye (1916 – 2011) Whittington (his great-grandmother and grandmother) to celebrate over 100 years of Cornish hotel keeping in the family.
FEATURES AT A GLANCE:
Exceedingly comfortable and spacious (up to 132m2)
Private entrance from the croquet lawn car park
Direct access to the hotel gardens and coastal footpath
Large double bedroom with super king or twin beds
Dressing room / second bedroom with king or twin beds
Bathroom and shower room
Sitting room with dining table
Private balcony or terrace
Pantry with fridge, microwave and kettle
Air conditioning
Penhaligon luxury toiletries
High speed WiFi
Ultra HD Television
Roberts DAB radio with bluetooth connectivity
Nespresso coffee machine
To make a booking enquiry please contact Reservations by clicking on the button below: