The Dining Room at The Nare has spectacular sea views on three sides and offers traditional five-course dining. The table d'hôte menu, which changes every evening, is a classic silver service affair with a fabulous hors d'oeuvres trolley, guéridon-served flambés, homemade puddings and a renowned selection of West Country cheeses. Portloe lobster is on the menu every night as well as an abundance of seafood and other local produce, and of course generous helpings of Cornish clotted cream.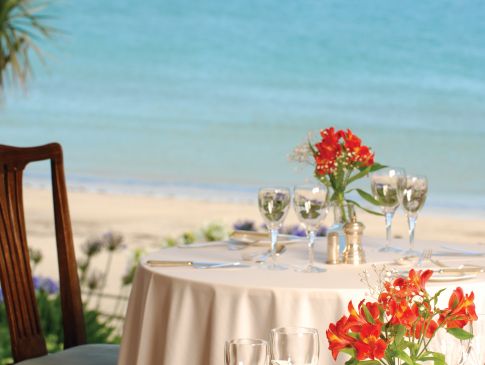 Toby Ashworth's interest in wine ensures a wine cellar stocked with classic and interesting wines from around the world. Although an informal atmosphere prevails at The Nare in the evening most gentlemen prefer to wear a jacket and tie in the Dining Room and children under seven years of age are not expected in the Dining Room in the evening.
Traditional Sunday Luncheon
The Traditional Sunday Luncheon at The Nare is a gracious affair. Arrive in time for an aperitif in the cocktail lounge after which you will be shown to your table in the Dining Room, with its panoramic views on three sides. Slightly formal, but certainly not stuffy, this proper Sunday Lunch is a reminder of days gone by. Whether one is sharing an intimate table for two or a larger table for a special birthday or anniversary, The Nare's Traditional Sunday Luncheon is an occasion not to be missed.