The Nare has partnered with Morgan Motors, through its membership of Pride of Britain Hotels - a collection of 50 of the best independently owned luxury hotels in Britain, to offer guests the chance to hire a classic Morgan 4/4 motor car during their stay. Like the Range Rover Chauffeur Service, The Nare is believed to be the first hotel in the UK to offer this purely for the benefit of its guests.
Managing Director of Morgan Motor Company, Steve Morris, describes the new partnership: "We're delighted to be able to offer this unique partnership with Pride of Britain Hotels. Guests staying at selected Pride of Britain Hotels around the UK will now be able to enhance their stay with the hire of a Morgan sports car. Driving a Morgan is an exhilarating and memorable experience, and one that we are certain will complement any stay at a luxury hotel. We're thrilled that the Nare Hotel in Cornwall is the first hotel to offer a Morgan hire car, I can't imagine a more idyllic experience than a stunning Cornish hotel and a traditional British sports car during summer."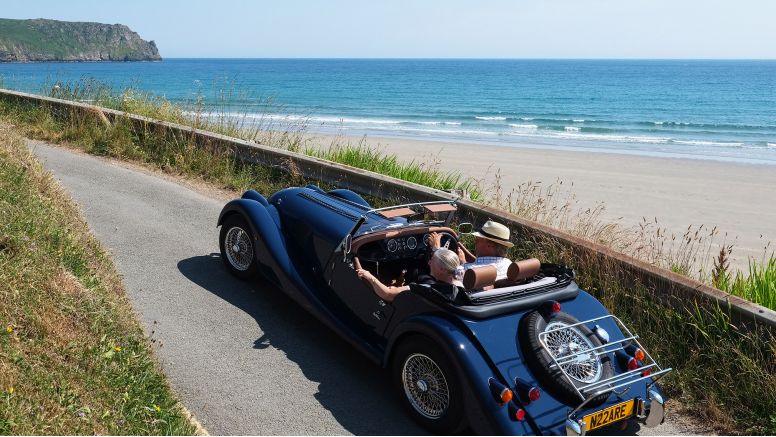 From July, guests will be able to experience the thrill of driving a classic car through the Cornish countryside and soak up the dramatic views from the county's coastal roads, whilst on holiday at The Nare. Why not have a luxurious Nare picnic basket fitted to the rear picnic rack, and stop for lunch at the most picturesque spot on route?
The journey of The Nare's new Morgan 4/4 sports car is documented with images and videos below.
The Nare's Morgan was returned to Morgan Motor Company in February 2020. However guests may still hire a Morgan for the day if they wish via our friends at Perranwell Classic Car Garage. Please contact Reservations for more details.
THE NARE'S MORGAN IN PRODUCTION - 20TH JUNE 2018
The Nare's new Morgan was in production during the month of May and June . See the video slideshow below, showing the car in its final stage of assembly:
NARE PROPRIETOR VISITS MORGAN FACTORY - 27TH JUNE 2018
Nare Proprietor, Toby Ashworth, visits Morgan HQ in Malvern to inspect the new motor and check it was fully Nare-worthy - see the video slideshow below. After establishing it was in fine fettle Toby set off for the sunny south Cornish coast with the roof down, of course.
NEW MORGAN ARRIVES AT THE HOTEL - 27TH JUNE 2018
Just a few hours later the car is greeted by guests as it arrives at The Nare for the very first time: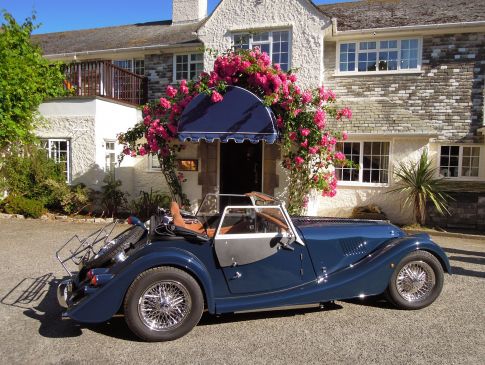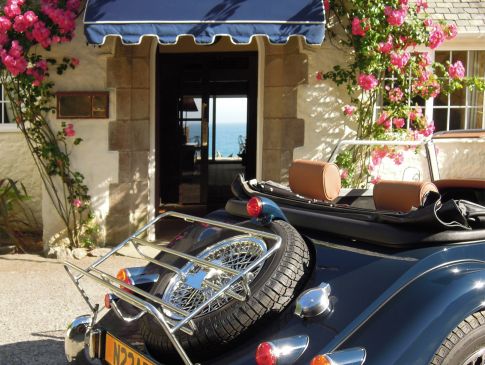 MORGAN DRINKS PARTY - 10TH JULY 2018
The Nare unveils the new Morgan 4/4 sports car at a Champagne drinks party on the hotel's sea-view croquet lawn. Guests enjoyed sipping Moet Champagne whilst admiring the hotel's new classic motor, and the stunning Morgan watches on loan from British watchmaker Christopher Ward London.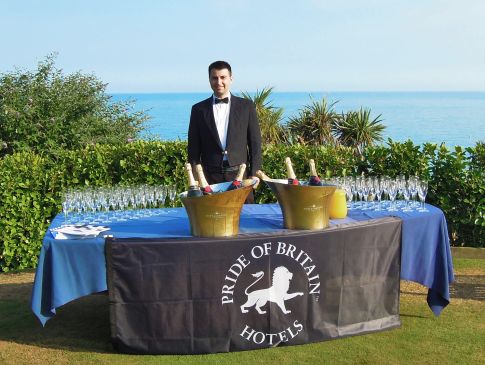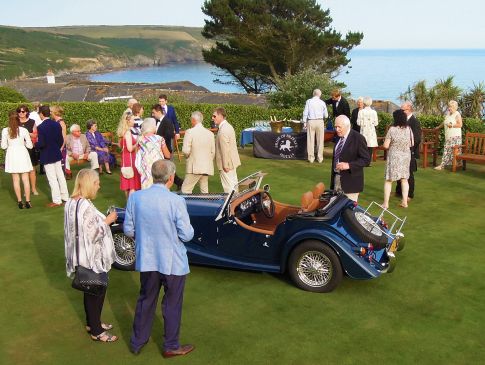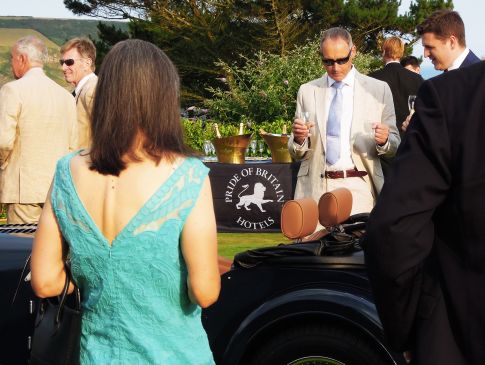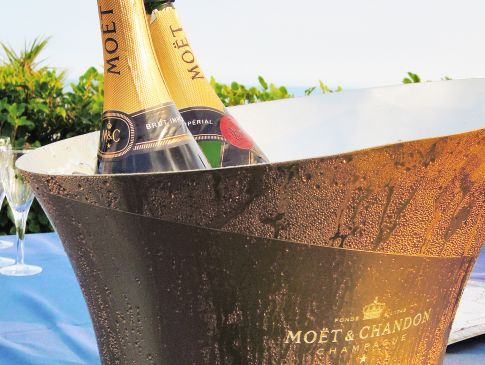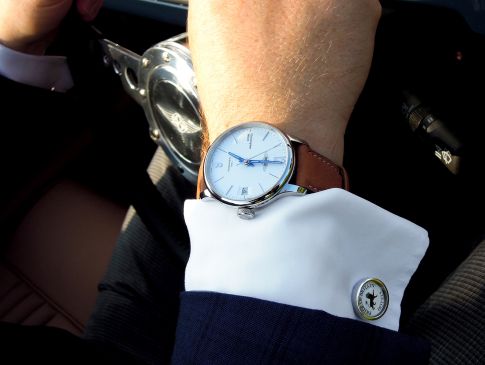 THE MORGAN VIDEO SHOOT - 26TH JULY 2018
Toby Ashworth hosted a film crew from Prestige Film & Video, an official partner of Pride of Britain Hotels, to capture footage for The Nare's Morgan video. Guests were filmed driving the Morgan along some exciting routes and at picturesque locations surrounding the hotel.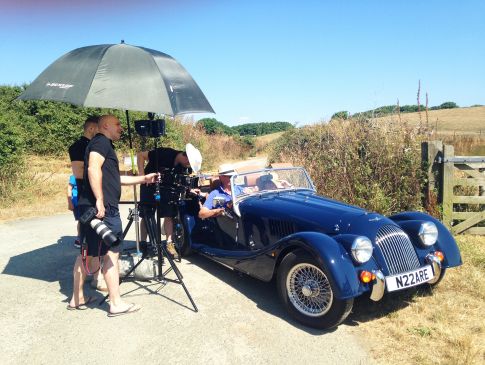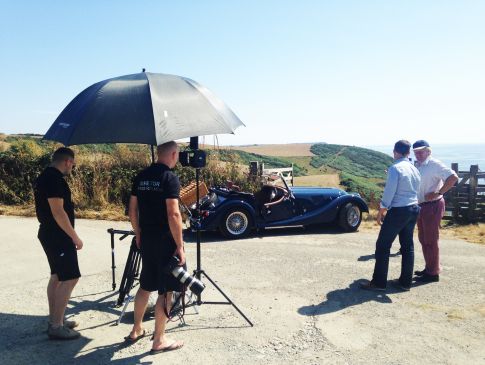 It was a blisteringly hot day which provided a great backdrop for the filming but was sweaty work for all involved. Thank you to the very talented film crew and to all the guests who gave up part of their holiday to help with the production - watch the video here.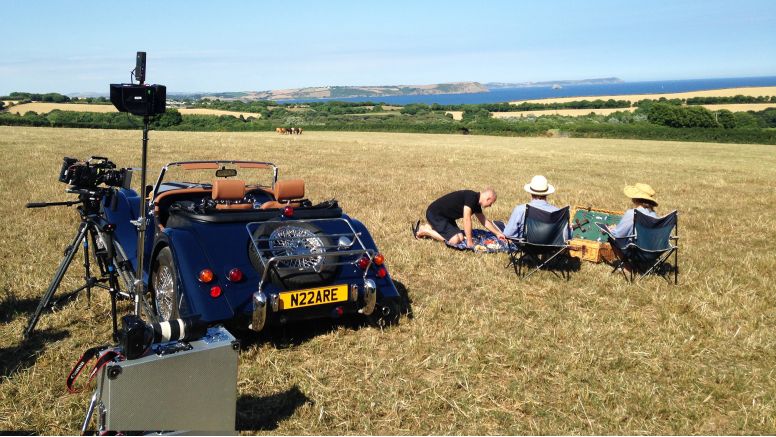 SURELY THE MORGAN SHOULD HAVE A NICKNAME? - 1ST OCTOBER 2018
Some suggestions have come flooding in: Maggie – political connotations of a firm handbag, plus already have the boat; Moggie – overused, smelly cat; Morwenna – might offend my cousin. None have quite made it, but here's a whimsical suggestion - it might stick…votes please.
The Morgan does have some distinct similarities with The Matron from my old prep school. Of course she had a nickname, and if you had ever met her then you would certainly have not forgotten. Even if you hadn't met her then you probably did metaphorically for she was a Great British icon in her own right and an archetypal production of 100 years ago. So with an affectionate drive down the memory lane of the blistering hot summer of '76 it is with affection I now describe Miss Lois Spencer.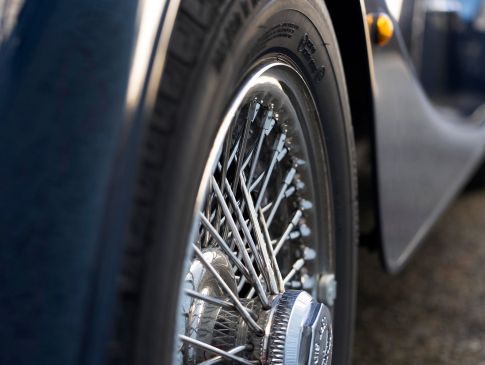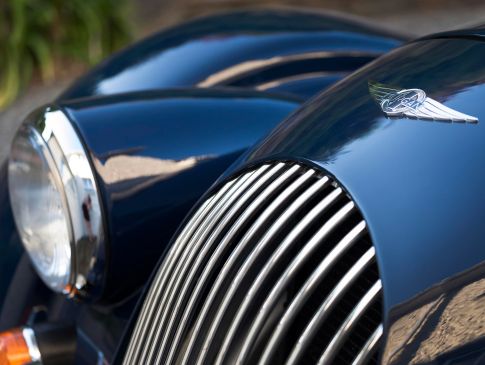 She was a classic institutional figure – a timeless model of her class. She had a light frame, trim bodywork boned with an ash frame with a deceptively stiff chassis as tough as steel. She was always immaculately turned out in a traditional conservative blue livery with all the appropriate trimmings one would expect. She was omnipresent at the front of house and appeared for all occasions, not just for quiet Sunday lunch outings.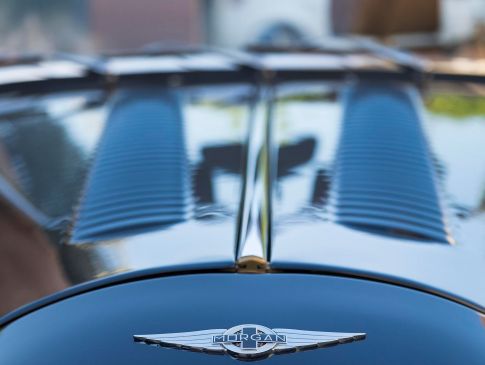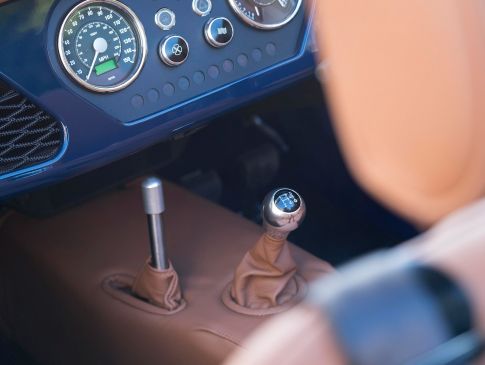 Cave! She would give all the boys a very firm ride if not handled carefully, could easily drive you round the bend, and was best approached in a sportsmanlike gentlemanly manner. Certainly not a soft-touch automatic yet she could go easily up and down the gears. Her approach to life was brisk, shirtsleeves neatly rolled up with an open top window policy in the dormitory – she liked fresh air - we had to run down to the bottom of the drive before breakfast each morning. Any potential ailments were met with the triage clarion checklist of: 1. Drink water, 2. Rub grease on it, 3. Sit on the lav - the latter being contemplative as well as constitutional in determining if there was anything really the matter with you. She could not but be admired for what she was, a classic of her time, and behind her back affectionately nicknamed "Gertie"!
The Nare's Morgan was returned to Morgan Motor Company in February 2020. However guests may still hire a Morgan for the day if they wish via our friends at Perranwell Classic Car Garage. Please contact Reservations for more details.