On 14th June 2018 Falmouth celebrated the 50th anniversary of Sir Robin Knox-Johnston's departure at the start of the 1968 Sunday Times Golden Globe Race.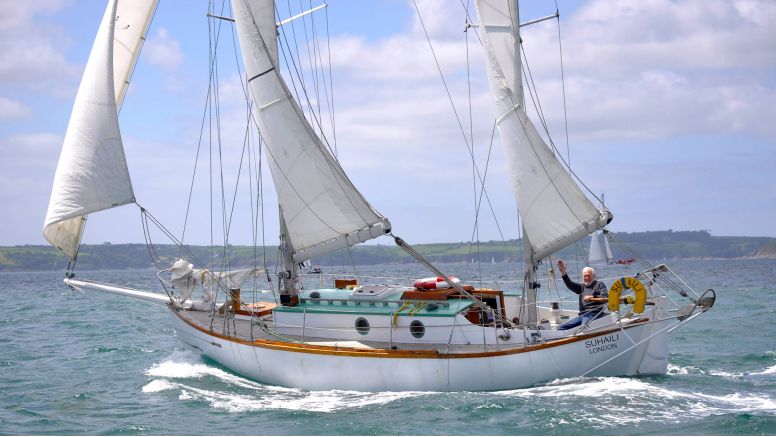 Fifty years to the day after Sir Robin Knox-Johnston set out from Falmouth UK in his rugged 32ft yacht Suhaili to become the first man to sail solo non-stop around the Globe, the British master mariner returned to lead a celebratory parade of sail around the harbour. Watched by visitors on every headland, the 200-strong armada of sail criss-crossed between Falmouth and St Mawes before Sir Robin set up a start line between Suhaili and Sir Francis Chichester's equally famous yacht Gipsy Moth IV and fired the canon to set the 17-strong fleet of 2018 Golden Globe Race yachts on their way to Les Sables d'Olonne for the start of this 50th anniversary solo circumnavigation on Sunday July 1st.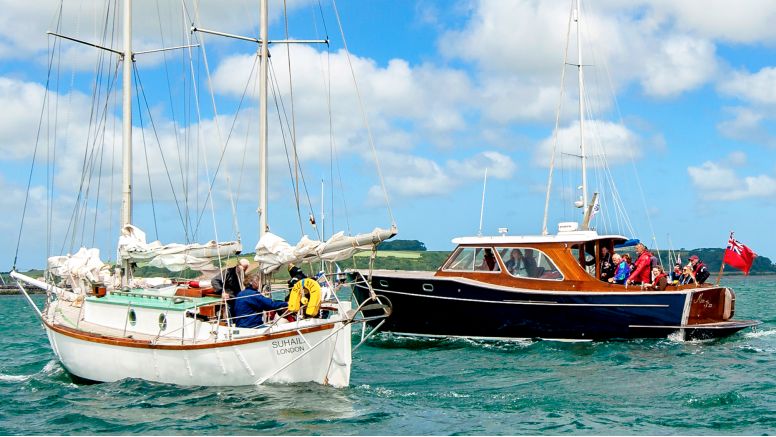 It was The Nare's privilege to host legendary photographer, Bill Rowntree, aboard Alice Rose for the event. Bill famously photographed Sir Robin as he returned into Falmouth from his 30,000 mile and 312 day voyage. The Nare General Manager Matthew Voyle was able to capture an historic moment, as Bill replicated his famous shot of Sir Robin aboard Suhaili in Falmouth harbour.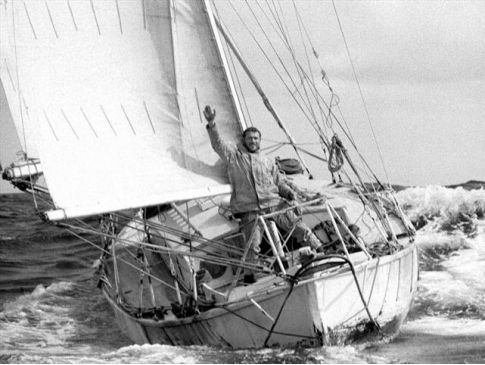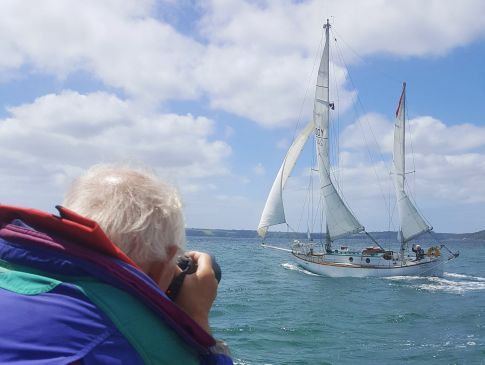 The Suhaili Parade of Sail was the culmination of a 3-day festival involving Suhaili, Gipsy Moth, the replica fleet of Golden Globe Race yachts and vessels from around the UK and Europe which had gathered in Falmouth to honour Sir Robin Knox-Johnston's achievement in the original Sunday Times Golden Globe Race in 1968/69.
The Mayor of Falmouth, Cllr Grenville Chappell said: "It's amazing to think it was 50 years ago - it seems only yesterday - that Falmouth welcomed Sir Robin Knox-Johnston back into port after his incredible and historic sailing achievement, one that captured the hearts and minds of millions of people around the world. His exploits then, and subsequent, have inspired many across the UK and beyond to get out on the water, take up sailing or indeed undertake their own adventures. It certainly made an indelible mark on Falmouth's community and we are thrilled to see Sir Robin and his legendary yacht Suhaili back in town. We're delighted to be the host port for the Suhaili 50 Falmouth Parade of Sail jamboree. Our community has come together so well to assist, so a particular thank you to Falmouth Town Council, Falmouth BID, Falmouth Harbour Commissioners, Royal Cornwall Yacht Club, St Mawes Sailing Club and St Austell Brewery for their support."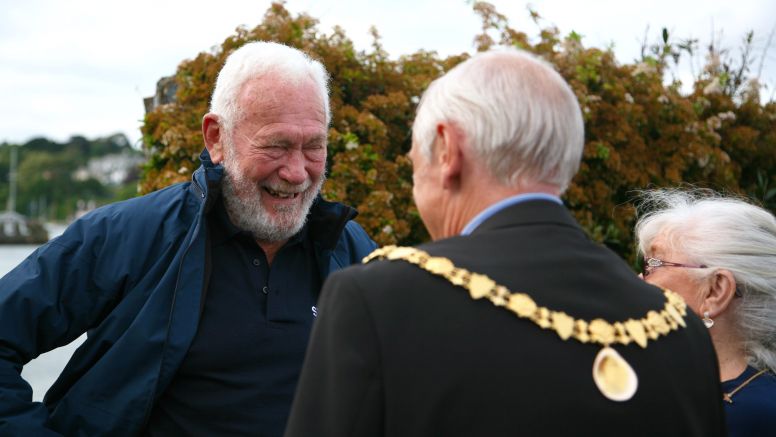 Sir Robin Knox-Johnston said: "It's wonderful to be back in Falmouth and to receive such a warm welcome right across this incredible port. The hospitality extended to myself, and all of the race participants has been exceptional and continually commented upon. This week's celebrations have brought back so many memories of half a century ago and I'm excited to see all of the second Golden Globe racers heading out for voyages of a lifetime from the same point that I left, and returned to, all those years ago."
One of those memories is a barometer, 'borrowed' off a pub wall before Sir Robin set out on his solo first which he used to monitor the changing weather conditions during his 312 day voyage. The original was later stolen from his yacht but Sir Robin returned with a replica of that faithful A Lovely day for a Guinness branded barometer to present to the Chain Locker Pub where he stayed 50 years ago before his departure. And to mark his return to this famous harbour-side hostelry, staff served Sir Robin with the same meal of steak and chips followed by lemon meringue pie he had ordered when he first returned to Falmouth on 22nd April 1969.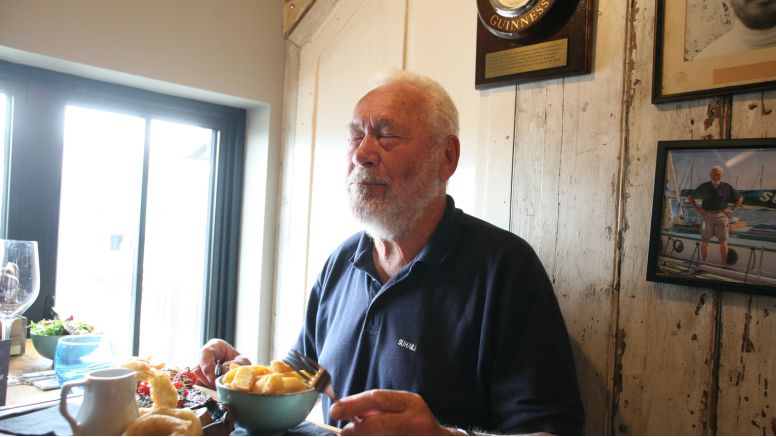 Falmouth BID Manager Richard Wilcox said, "Falmouth is renowned as a host port for a number of races and events of stature and it has been an absolute honour to welcome Sir Robin Knox-Johnston, and so many of those who were significant in his feat 50 years ago, back to our town. The spirit of voluntary collaboration across the past few months has been phenomenal. We were all delighted to see the spectacle of the Parade of Sail today, with nine of the 18 boats built here in Falmouth by Rustler and Falmouth Boat Company – illustrating Falmouth's place in the contemporary boat building sector. Everyone has delighted in witnessing the legend that is Sir Robin within our midst, and to share and learn from his accounts of his experiences half a century ago."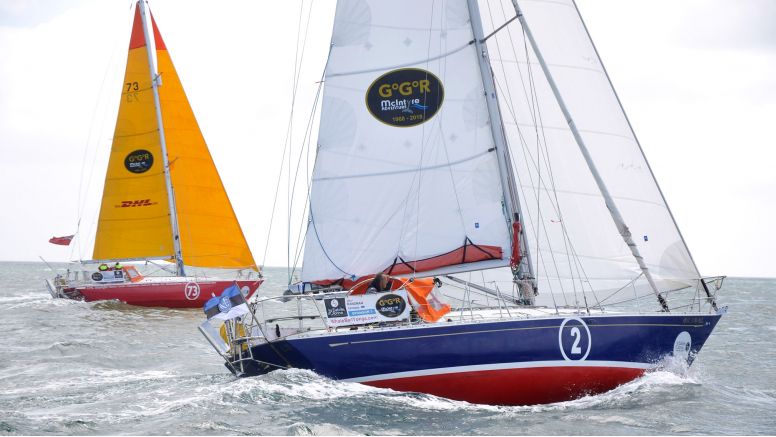 First of the 2018 Golden Globe Race yachts to cross the line at the start of the SITRaN Challenge race to Les Sables d'Olonne was Tapio Lehtinen's Finnish yacht Asterisk closely followed by 72-year old Jean-Luc Van Den Heede's French entry Matmut and the two bright orange painted entrants Mark Sinclair's Australian yacht Coconut and Istvan Koper's USA/Hungarian entry Puffin. Palestinian skipper Nabil Amra, who has still to complete his 1,000 mile solo proving trial, set out later in the day and must sail a further 300 solo distance once he arrives at the French port in order to qualify for the Race. The first boats are expected to finish in Les Sables d'Olonne, France sometime on Saturday.