On Monday 8th October The Nare was presented yet again with a coveted César award for Best Seaside Hotel of the Year at the Good Hotel Guide Awards in London. The Guide gives each year a César award to ten outstanding hotels from the UK and Ireland.
It is well known that The Nare chooses not to trophy hunt or propose itself for awards, however a gratuitous commendation from the Good Hotel Guide is much valued and cherished. The Césars are awarded on genuine guest feedback entirely and the Guide has a time-honoured reputation for being truly independent. The Nare's General Manager, Matthew Voyle, was there to receive the award.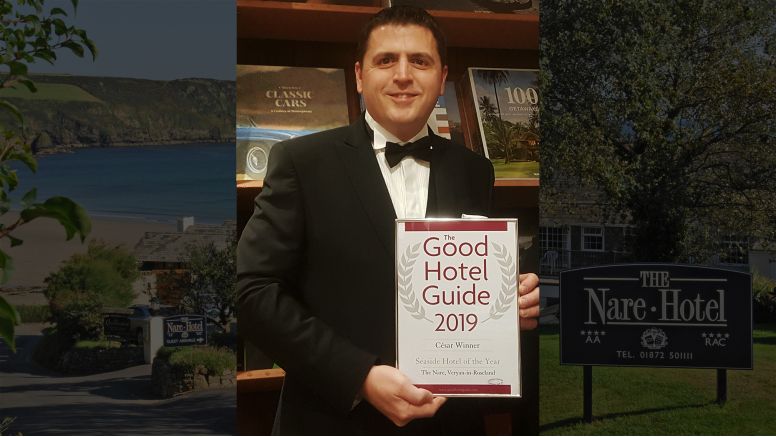 WHAT THE PRESS SAID ABOUT THE AWARD
"With its spa, its pools, balconies and sub-tropical gardens overlooking sandy Carne Beach, Toby Ashworth's hotel is the perfect mix of family-friendliness and luxury. Top marks for Cornish cream teas, local seafood, a talented new chef, smiling staff and traditional values. As The AA's highest-rated four-star hotel in Cornwall, The Nare has been a popular spot since it was bought by the grandmother of the current owner, Toby Ashworth, 30 years ago."
"Along with its stunning views of Carne beach and sea views across Gerrans Bay, perks include an outdoor hot tub, a tennis court, boat trips and the hotel's artist-in-residence, who offers art and painting tuition for guests. A five-course menu with silver service is served on a daily basis and guests are treated to a traditional cream tea - complete with homemade scones - each afternoon."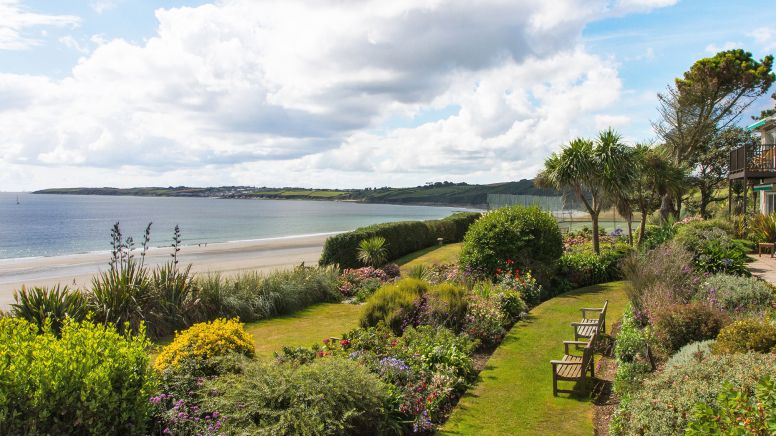 GOOD HOTEL GUIDE DESCRIBES THE NARE
'Old-fashioned in all the best ways', 'a Cornish jewel', 'a real joy – almost a privilege – to stay there'; compliments rain down from trusted readers after recent visits to Toby Ashworth's hotel on the Roseland peninsula.
Perched high above Carne Beach in 'stunning gardens', its 'spacious, warm-hued, traditional rooms' – many with balcony and 'divine' views of Gerrans Bay – have fresh flowers, antiques; 'wonderful beds, good linen and expensive toiletries'. Further gold stars: 'sherry by the bedside', shoe cleaning, fresh milk with turn-down, and, 'oh joy, Horlicks'.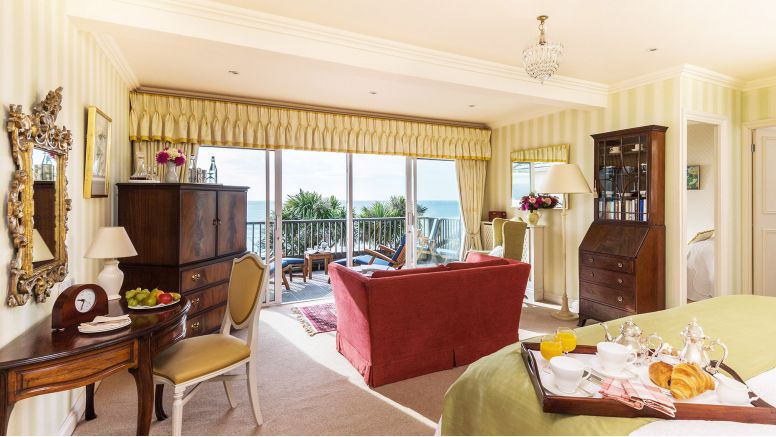 The 'young but experienced smiling staff' are uniformly praised. 'Many remembered our names. They seem to know instinctively how to look after their guests.' New chef Brett Camborne-Paynter's 'scrumptious dinners', including daily Portloe lobster, are served in a formal silver-service dining room with dress code and dessert trolley.
The more casual Quarterdeck offers the likes of Cornish seafood linguine. Breakfast 'keeps the bar high', as does afternoon tea: 'feather-light scones and blackcurrant jam, home-made cakes, proper loose-leaf teas'. 'I wish we could visit more often.' (Tessa Stuart, Peter Govier, IB, and others).